Upcoming events
We Were Rad Southsea Weekender – 15.04.2023 – 16.04.2023
---
Previous events
GT Malverns Classic – 25.08.2022 – 28.08.2022
We had a fabulous time this Summer, bringing BMX to the UK's biggest Mountain Bike show. We were invited by Si Paton and sponsors Muc Off to organise a BMX Show & Shine that ran alongside the Mountain Bike Show & Shine. Guest judges were BMX Royalty in the form of Bob Haro and Andy Ruffell. First prize rightfully went to Mark Broadway with his original 1978 Rampar. Worthy runners up were Tom Lynch's original Patterson race bike and Lee Durack's vintage SE Racing Quadangle. The event was such a great success that we have been invited back in 2023!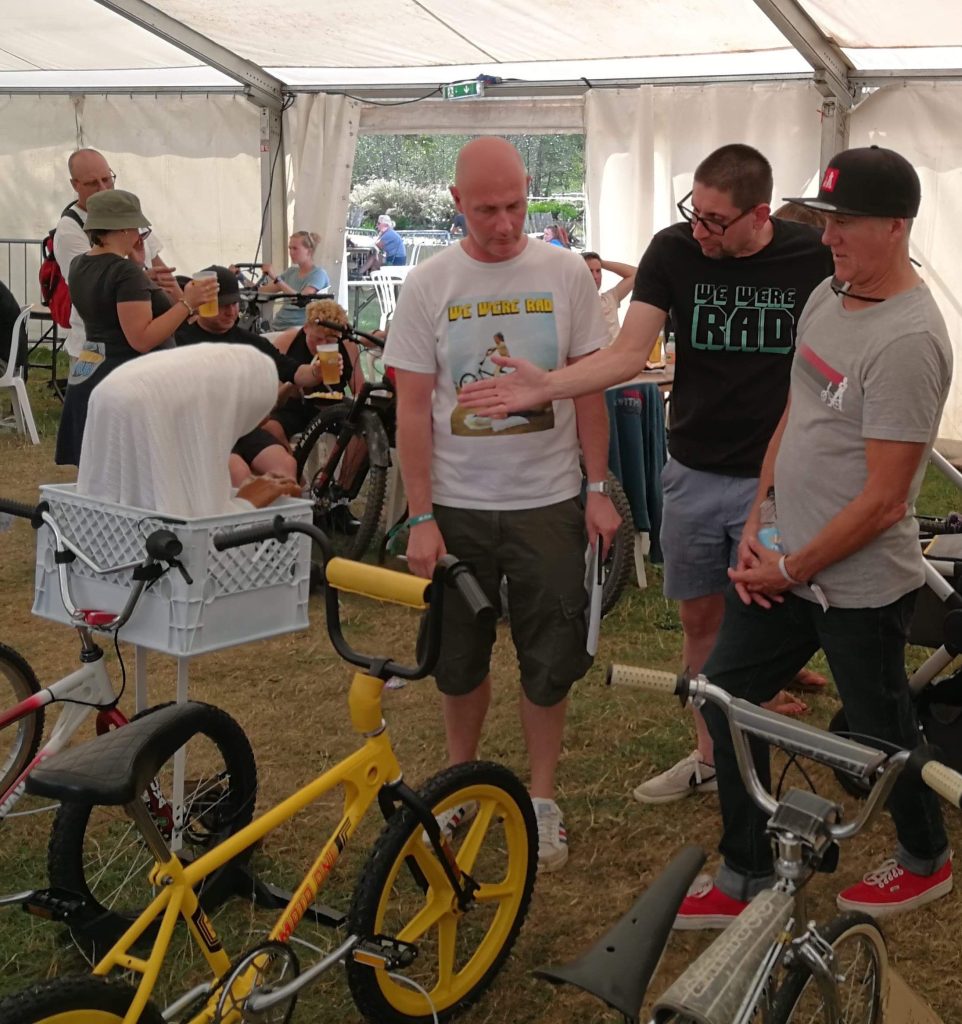 ---
SCOS BMX Weekender – 15.07.2022 – 17.07-2022
A huge thank you to Lee Durack for organising the amazing SCOS BMX Weekender 2022!
We had a brilliant time selling merchandise and taking pre-orders for our second print run. It was fantastic, as always, to see our old friends and legends Bob Haro, Andy Preston, Sarah-Jane Nichols, Carlo Griggs, John Büültjens, Charlie Reynolds, Alison Lawrence and Caroline Budd-Carey. It was a privilege to select a We Were Rad Show and Shine winner and be part of the Raffle prize giving with BMX legend Bob Haro.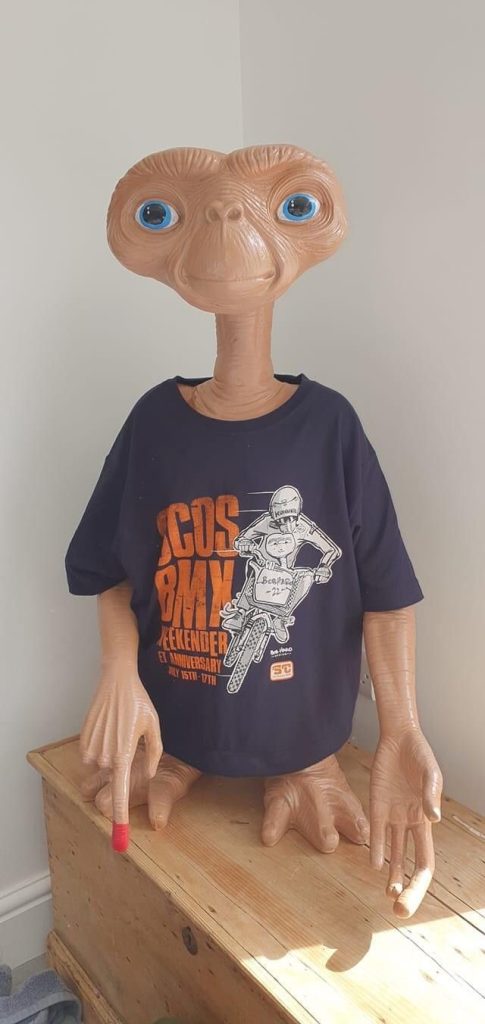 ---
Book Celebration Jam – ROM Skatepark – 23.04.2022
We were stoked and proud to host our book celebration jam at ROM Skatepark 23.04.22.
We had a fanfare of special BMX guests from the 80's joining us as well as a full complement of UK Skyway team riders who judged our BMX Beat competition. In addition, there was a bunny hop comp a very successful show and shine. Matt Harris filmed the event and did interviews throughout the day. A very special to Old School Paul and ROM Skatepark for all their help and support that enabled us to put on such a successful event.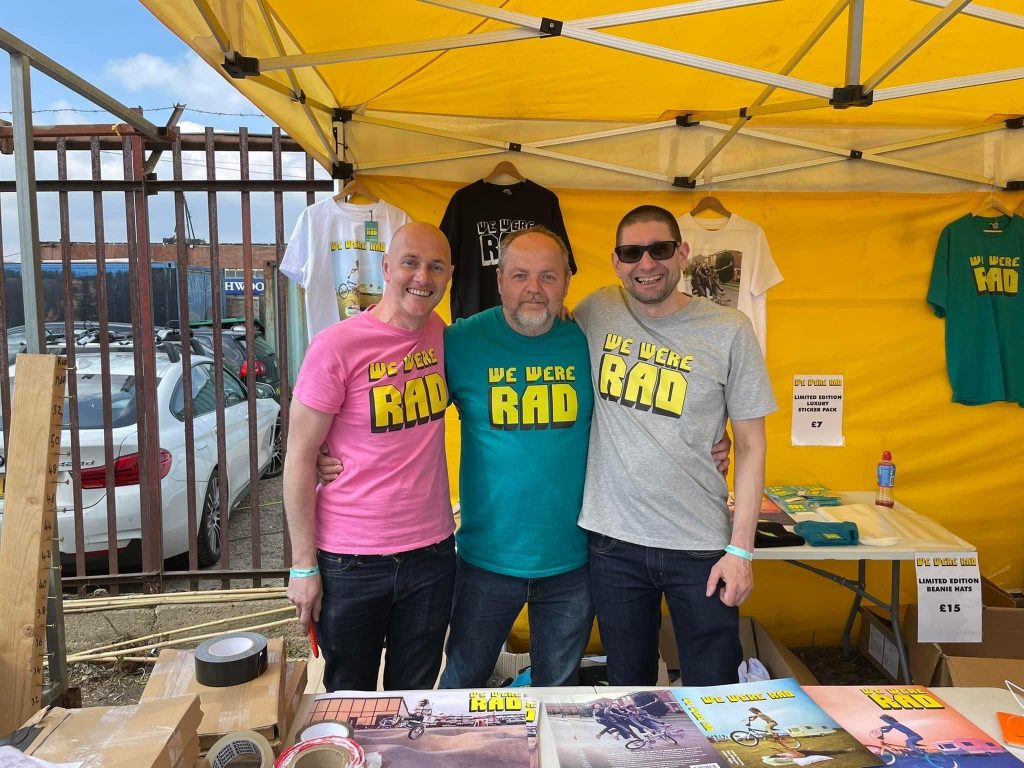 ---
Charlotte Worthington Meet and Greet – 24.08.2021
We Were Rad had an incredible time meeting Olympic Freestyle Gold Medal Hero Charlotte Worthington.
We were absolutely stoked to share a stage with a BMX Legend. We cannot thank our good friend Alan Woods enough for the great honour and privilege of being the official guests at this very special event. We once again got to show our presentation to all those who attended and did a brief Q and A with the audience. Alans BMX holds a very special place in our hearts and features heavily in the book. In many ways truly a spiritual home of BMX in the U.K.
It was truly amazing to meet Charlotte and to get to sit on the actual bike she rode in the Olympic Games Freestyle Final.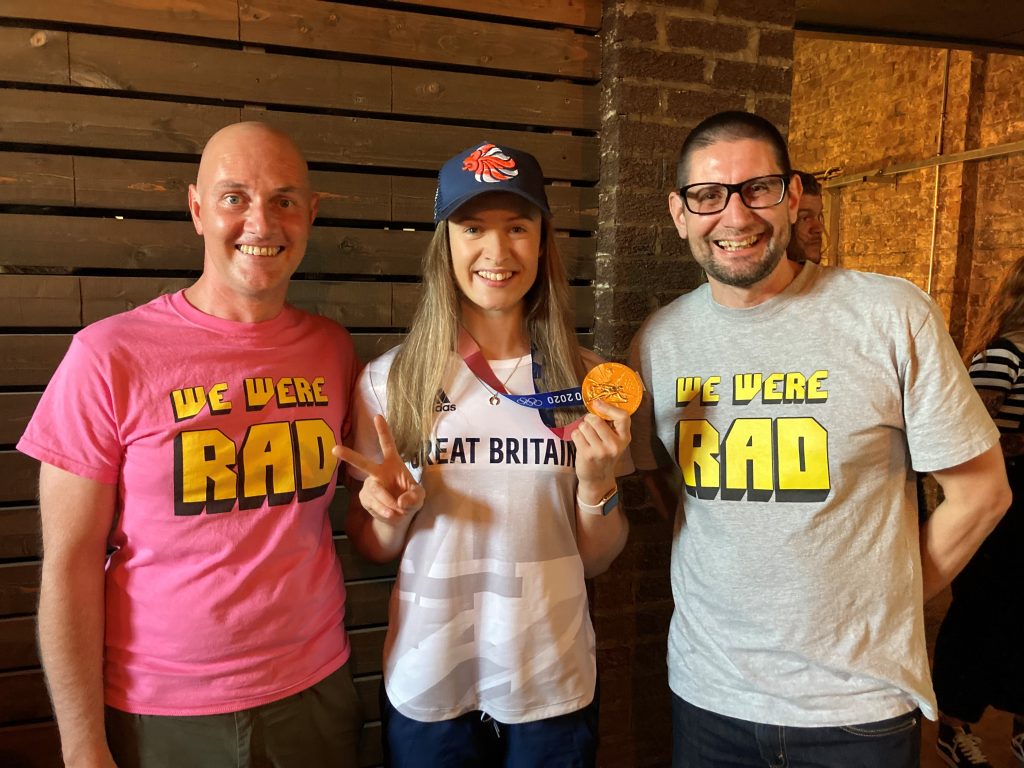 ---
U.K. Laces Out Camp and Furnace Baltic Triangle Liverpool – 07-08-2021
U.K. Laces Out Camp and Furnace Baltic Triangle Liverpool. We Were Rad had an amazing day meeting old friends and making many, many new ones at the U.K.'s Premier Sneaker festival.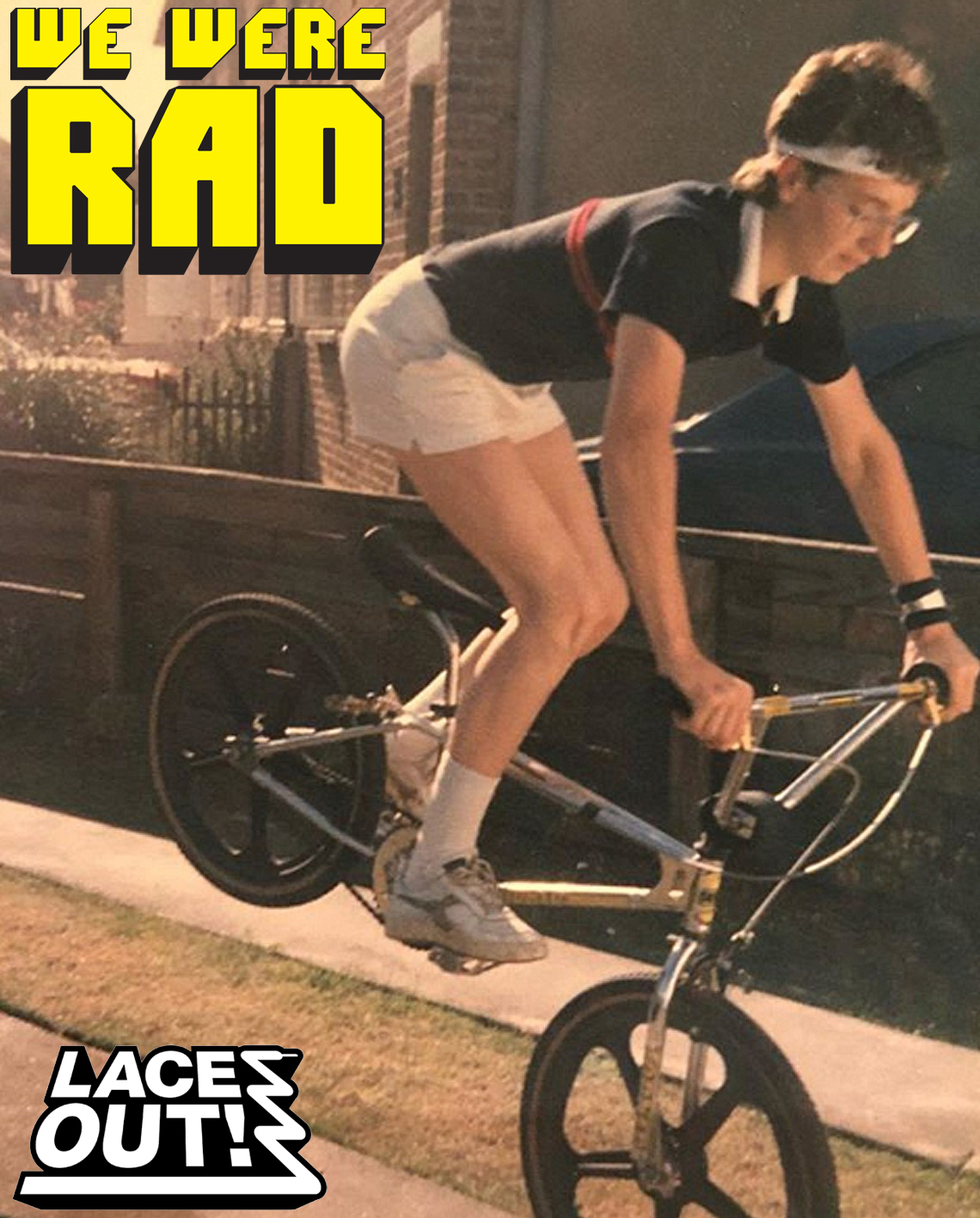 ---
Midlands BMX Massive & Peaky Riders Summer Jam 2021 – 16 – 18.07.2021
Midlands BMX Massive Summer Jam. We had a truly amazing time in the summer sunshine thanks to our amazing friends from Midlands and the Peaky Riders. We were able to show our presentation several times over the weekend to large number of people. We got great support from the Northern Monkeys Group who made the trip down south for the show. The show also featured DJs, Graffiti Artists and many VW collectors. It was fantastic to chat to many new people and finally be able to tell some people that they would be featured in the book.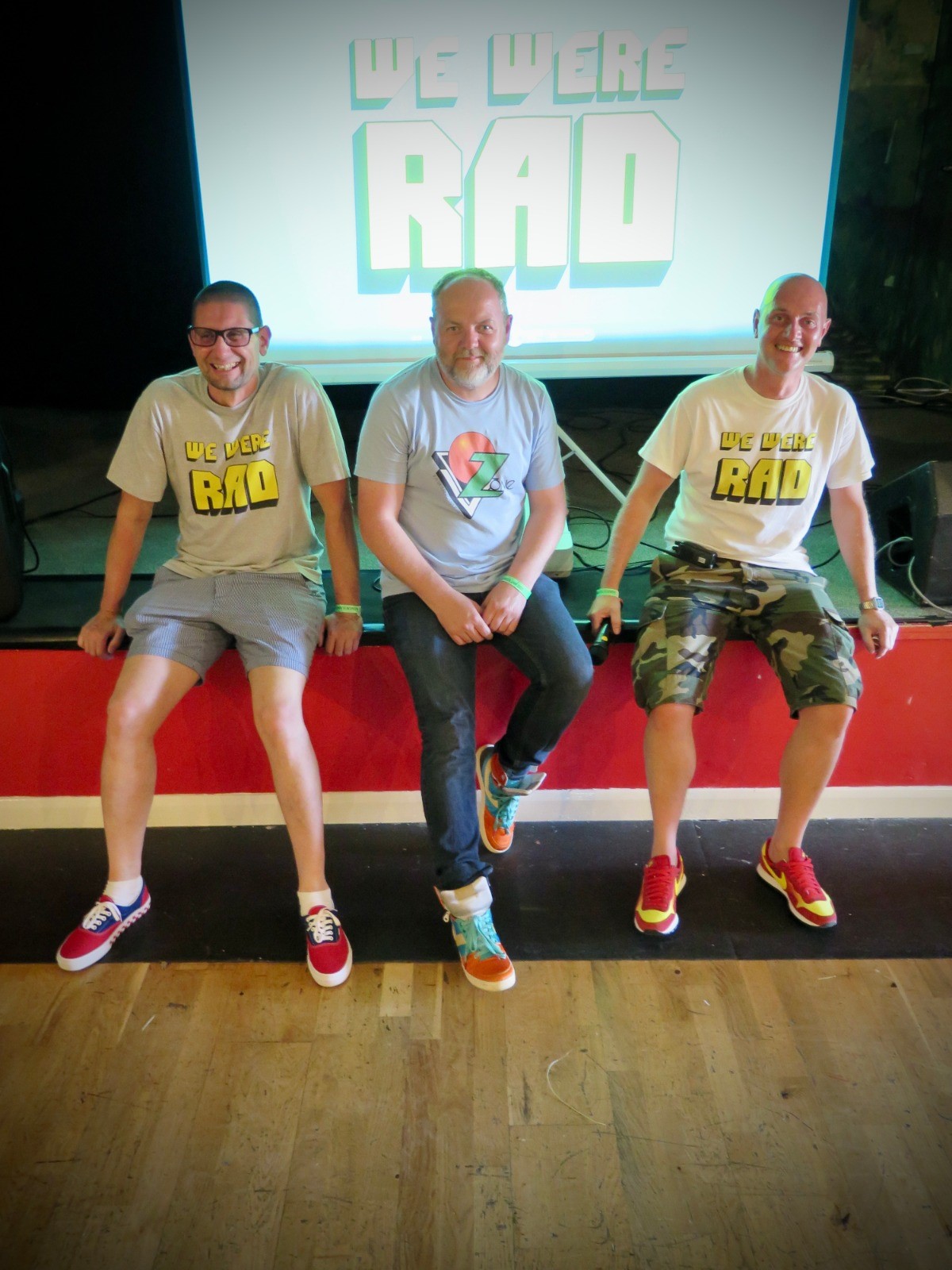 ---
S.C.O.S South Coast Old School BMX Show – 25 – 27.06.2021
S.C.O.S South Coast Old School BMX Show Invited by our old friend Lee Durack we were very proud to have the World Premier of our We Were Rad Live Presentation. This followed by a fantastic Q and A with the amazing Derek Spicer who hit us with prepared questions before throwing it open to the audience. We were also honoured to be asked to be guest judges of the Show and Shine competition, alongside our good friend and legend Charlie Reynolds.